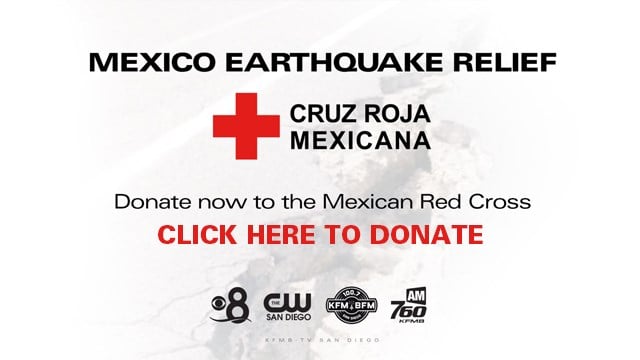 In the aftermath of two major, deadly earthquakes striking our neighbors of Mexico, rescuers are working around the clock, searching for victims and assisting hundreds with recovery and relief. Please join the KFMB stations to help NOW. Click here to donate to the Mexican Red Cross.
Access the website, follow prompts to create a new account Enter your credit card information (the amount is in Mexican Pesos MXN, select the cause: SISMO 19.09.17 Website will confirm the transaction is successful and will issue a receipt Mexican Red Cross has set up an Amazon Wish List for necessary items.
THE MEXICAN RED CROSS has deployed dozens of doctors and nurses, alongside more than 90 ambulances and its urban rescue unit. In all, more than 500 volunteers and employees were activated in the hours immediately following the deadly quake. In addition, 17 more urban rescue units, ambulances and logistic units are responding to the disaster.
HOW TO REACH LOVED ONES: Disasters like the earthquake in Mexico have left many across the world looking for their loved ones, and the Red Cross is here to help. If you are looking for a U.S. citizen affected by recent international disasters, please contact the U.S. Department of State Office of Overseas Citizens Services at 1-888-407-4747 or go online. International Call Center CIAM can be reached 24/7 at 1-855-4636-395.
If you are seeking information about non-U.S. citizen family members in Mexico who have been missing since the recent earthquake, click here or call the American Red Cross Restoring Family Links Helpline at 844-782-9441.
OTHER MEXICO RELIEF AGENCIES
The Salvation Army Mexico Relief
Save the Children is on the ground, responding with disaster relief efforts to help children
UNICEF Mexico, which typically works to protect children's rights in Mexico, has launched an earthquake relief fund
Fondo Unido México - United Way Network, has created an emergency fund to help the areas affected by the earthquakes as well as the recent series of hurricanes.
Direct Relief, a humanitarian aid organization, has staff members in Mexico City and has pledged that 100 percent of its donations will go directly to relief efforts, including delivery of medical supplies.
Global Giving Mexico Relief Fund is collecting donations to help earthquake survivors with supplies such as food, water, and medicine and provide long-term assistance to help residents rebuild.
San Diegans, to protect you and your loved ones, please click here to learn more about earthquake and disaster preparedness.